Factory Cheap Used Galvanized Cattle Fence Panels
1.Product Description
Horse panels are made from heavy duty galvanized steel tubes, which are welded together by vertical posts and horizontal rails to form a sturdy structure. A horse arena or pen can be formed with pieces of panels jointed with accessories. Horse panels are easy to install and dismantle. They are widely used to enclose and protect horses in farmland, paddocks, arenas, rodeo, stables, etc.
Material

Carbon steel

Pipe thickness

1.6mm - 1.8mm.

Pipe dimension

Three types ( round pipe, square pipe, oval pipe)

1. round pipe: 32mm; 42mm.

2. square pipe: 40mm × 40mm; 50mm × 50mm.

3. oval pipe: 30mm × 60mm; 40mm × 80mm; 50mm × 100mm; 40mm × 120mm.

Panel size (H × L)

1.0m × 3.0m; 1.5 × 2.0m; 1.6m × 2.5m; 1.8m × 2.1m; 1.8m × 2.1m; 1.8m × 2.4m, 1.8m × 3.0m, etc.

Finish

hot-dipped galvanized, power painted, PVC coated.

Painted color

white, gray, orange, green, red, pink, etc.

Bars/Rails

3 rails, 4 rails, 5 rails, 6 rails, 7 rails. 1.8m high with 6 bars/rails or 1.6m high with 5 bars/rails, etc.

Packing

packed in steel pallet or in bulk.
2.More Details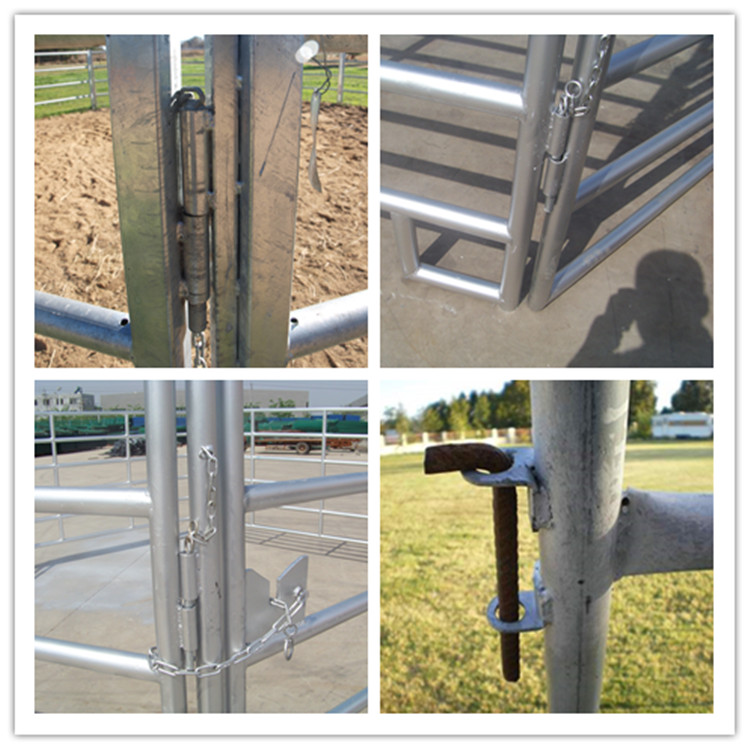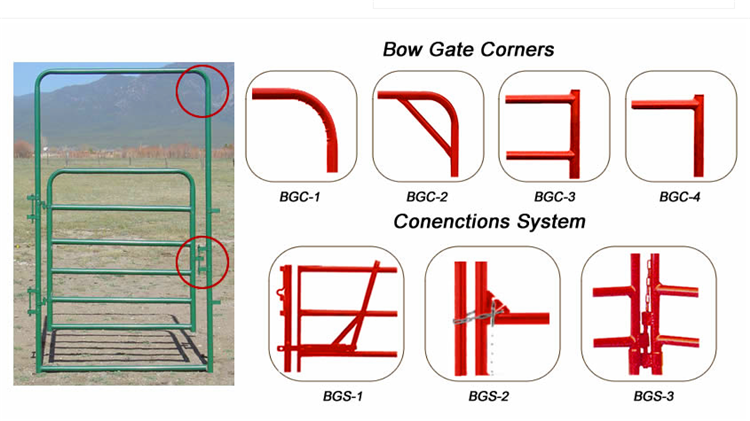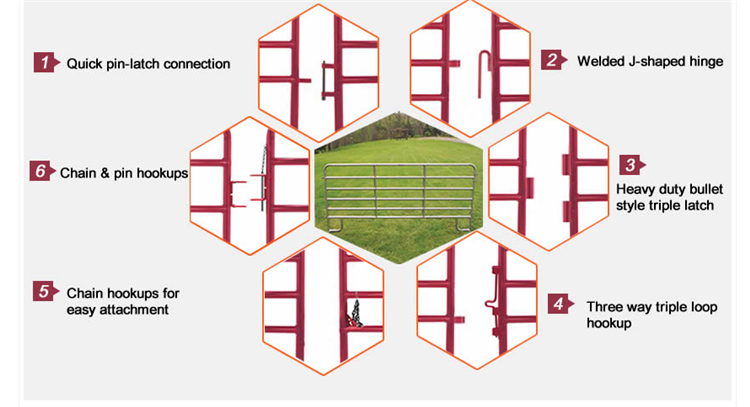 3.Advantage
1) Robust structure
Horse panels are made from heavy duty steel tubes. They are welded by 360 degree. The sturdy structure makes horse panels stable and not easy to break.
2) Corrosion resistant and durable
The galvanized and painted coated surface make the panels anti-corrosion & rust and long service life.
3) Easy assembly and disassembly
Horse panels are jointed with pin latches or chains. The J-legs and metal base enable horse panels to stand freely without the need to dig holes on ground or lay foundations.
4) Safety guarantee
The panels are galvanized and polished without sharp edges. Thereby, the panels will not cause injury to your horses.
5) Various shapes of tubes
Horse panels tubes are available in round tubes, square tubes and oval tubes with different sizes.
6) Beautiful and attractive
Horse panels are hot-dipped galvanized or painted in gray, white, red, green and other colors, which can attract people's eyes.
4.Application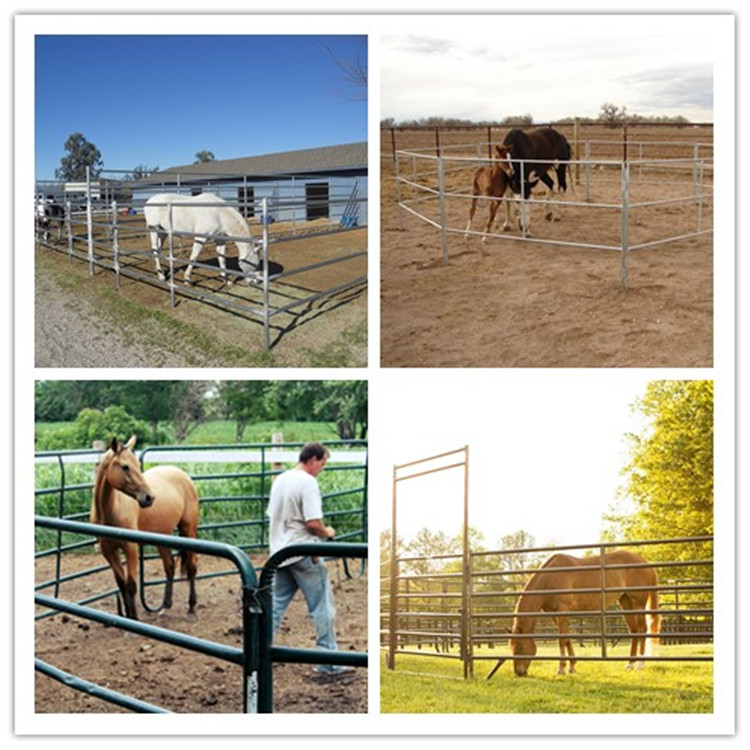 5.Packaging & Shipping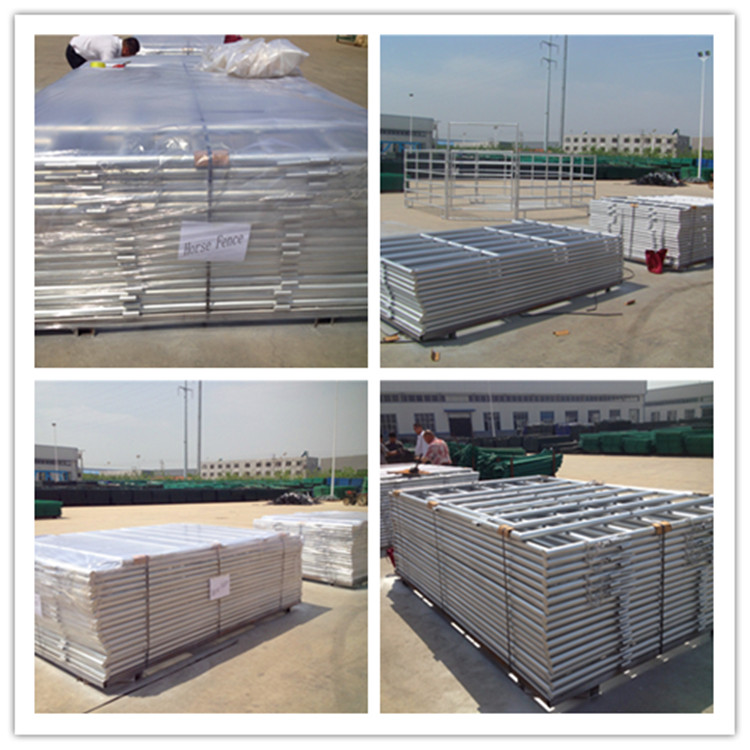 6.Quality Control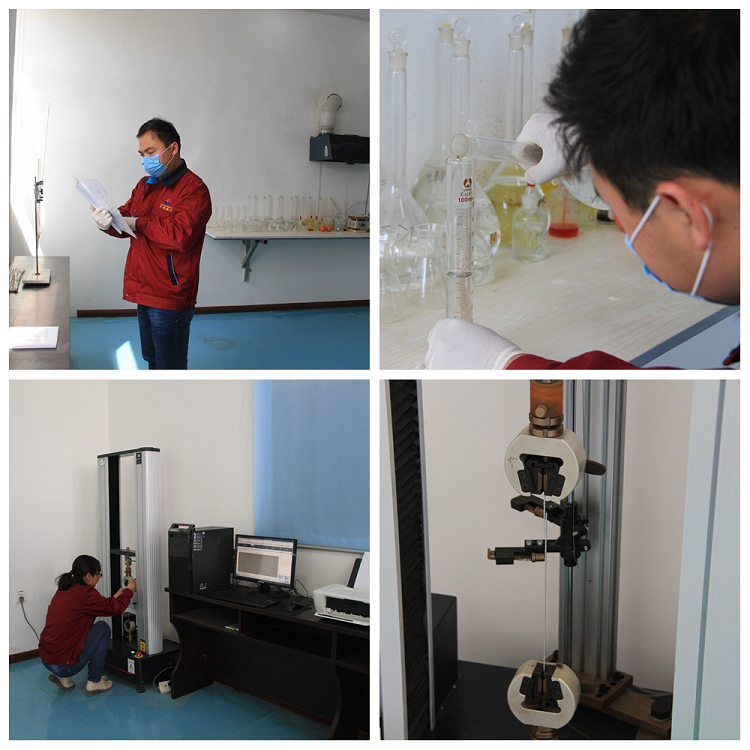 professional Laboratory to test the zinc coating and tension strength----to be sure the materials are as same quality you required
7.Our Services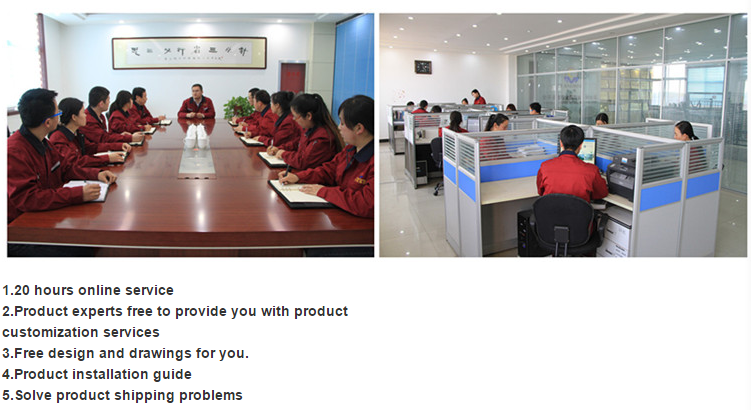 8.Copmany Introduction
Company Name: Hebei Giant Mental Technology Co.,Ltd
Company Type: Manufacturer
Factory size: 70,000sq. Meter
Sales Amount: US $30,000,000 per year
Main Export Market: Australia, Europe, Japan, USA, South American,etc.
Main products: temporary fence, wire mesh fence, T-post, chain link fence and zinc steel fence, etc.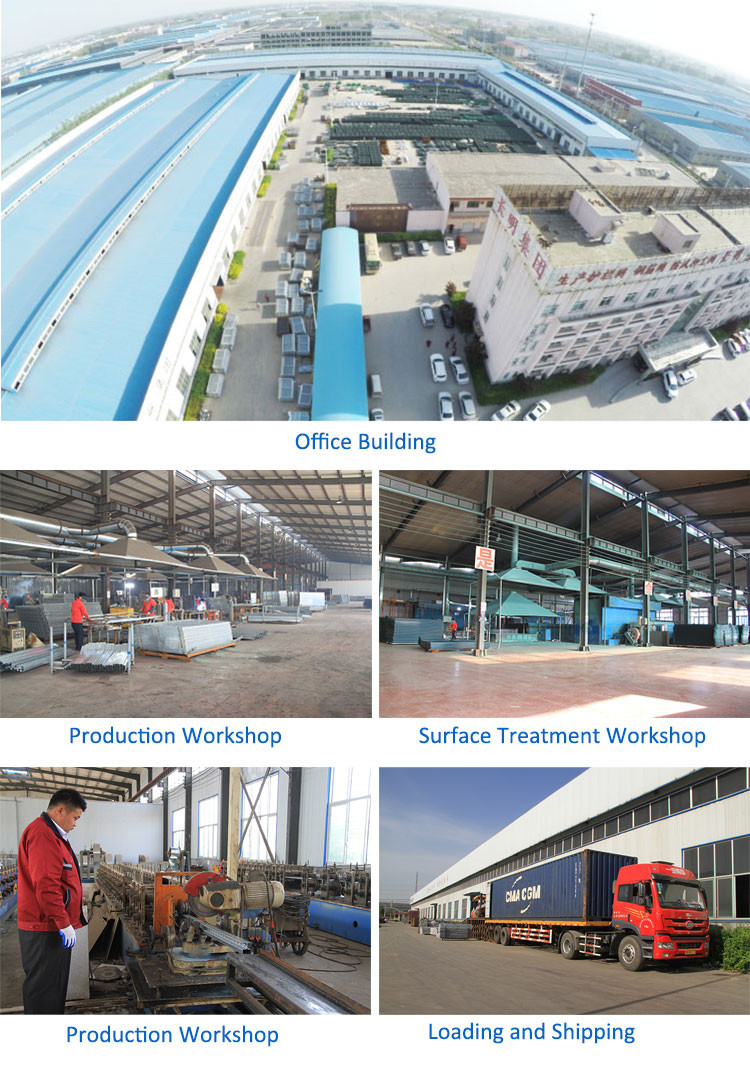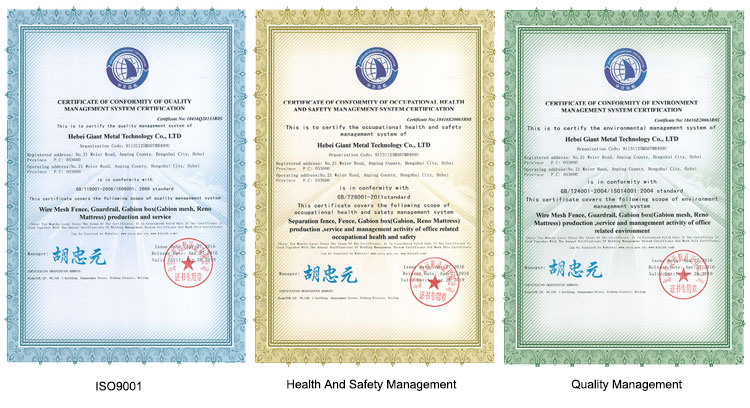 480 Professional workers, 8 years exprot experience sales team, Full set testing tolls
All these are to provide you with better sevice.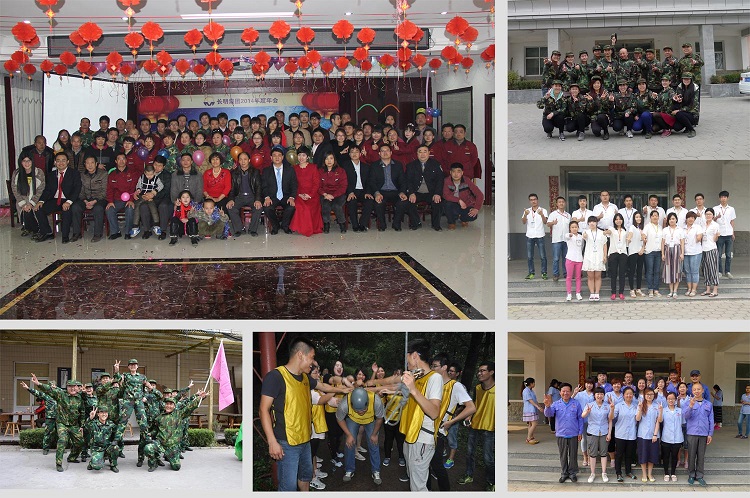 9.Customer Visit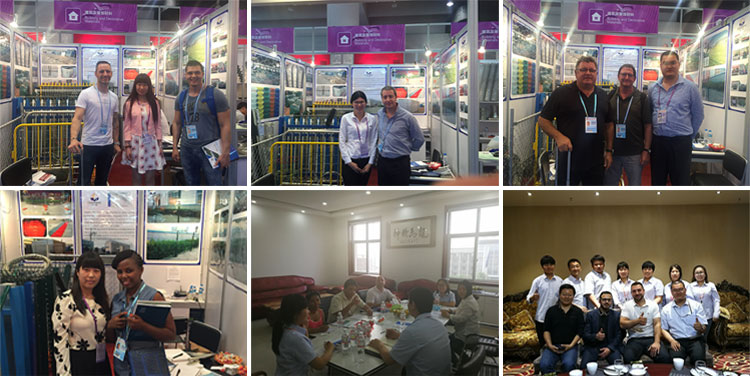 10.FAQ
1. Why choose us?
Hebei Giant Metal Technology Co.,Ltd is one of the subsidiary companies of CHANGMING GROUP.
CHANGMING GROUP is a factory in Anping with a long history 27 years. Specially in the line of wire mesh fence, we have professional workers, designers, and quality-control departments. Make sure that from materials, semi-finished product, end products, packing and loading will be ok. Also we have the ISO 9001/2008 and BV certifications, SGS and other certifications will also available is you require. We try our best to supply the highest quality product with a competitive price.
Also we are the recommended factory by our government.
2. What is our factory size.
Our factory is nearly 70,000 sqaure meters, has 380 workers. We have three welded machines, ten wire straighteners, one automatic pvc coated assembly line and one automatic pe coated assembly line.
3.How to get us?
Our factory is located in East Industrial Zone, Anping Country, Hengshui City,Hebei Provence,China. 250km away from Beijing and 130km away from Shijiazhuang.
Contact US
Hebei Giant Metal Net Co.,Ltd
ADD:20 Meters West of Houchenggan Village
Anping County,Hebei,China
Web:www.chinafence.cn
Tel: 86-318-2052226
Fax: 86-318-7800000
Phone:086-13663187917
Facebook:(Candy Jia)
Linkedin:Candy Jia
製品グループ : フィールドフェンス > Horse Fence